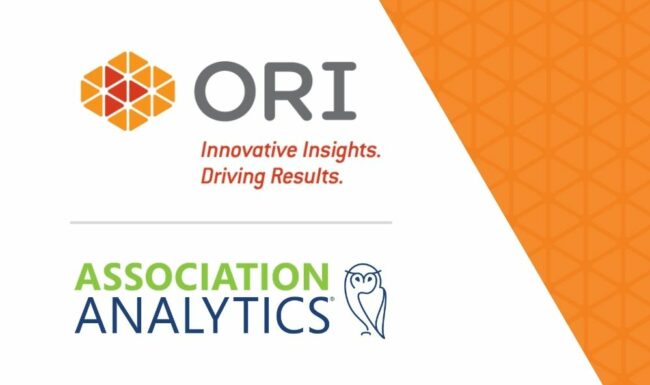 ORI, Association Analytics Announce Partnership to Deliver Data-Driven Insights to Association Clients
Two D.C.-area leaders in data analytics announce collaboration designed to arm associations with data-driven insights to better anticipate and meet member needs.
Herndon, VA – August 13, 2019 – ORI, a customer experience consulting firm applying innovative approaches to data collection, data cleansing, and analysis, and Association Analytics (A2), a leading data analytics company for associations, announced today that the firms have entered into a partnership to deliver high-value insights and outcomes for association clients by analyzing previously difficult-to-mine member data. Through the partnership, Association Analytics will leverage ORI's Insights2Action platform and the firm's decades of research and consultation experience to create an even more complete view of membership for its association clients. ORI will leverage Association Analytics' Acumen data analytics and business intelligence platform to provide its clients with a 360-degree view of their constituents.
Leveraging AI-powered text analytics to conduct sentiment analysis and level of effort (LOE) and theme detection enables associations to quickly and efficiently understand their members to make informed decisions. By exploring both structured and unstructured data sources—from open-ended survey feedback and AMS data to social media posts and online forum conversations—associations can better understand their members in order to strengthen member experience, increase retention rates, drive non-dues revenue, and lower operational costs.
"ORI is thrilled to enter into this partnership with Association Analytics, and we look forward to marrying our insight-driven, AI-powered text analytics capabilities with A2's proven data analytics and business intelligence solutions to better serve the association community," said Kathy Benson, CEO and co-founder of ORI. "A2 is a trusted partner for association professionals, and this alliance represents our shared passion for fostering innovation in the association community and continually improving member engagement through a thoughtful, data-driven approach."
The collaboration brings together the firms' complementary services and builds on their shared commitment to embrace the power of data analytics to deliver greater insights to business leaders.
"As the volume of structured and unstructured data continues to grow each year, we're seeing incredible demand for products and services that improve data analytics and deliver insights for associations," said Mark Lowry, President and Chief Revenue Officer (CRO) of Association Analytics. "Our two companies are uniquely positioned to help associations with this challenge, so we're very excited to form a partnership that will serve the goal of making clients more successful with their data. We're committed to delivering best-in-class solutions for our customers, and this partnership with ORI advances that mission and represents a commitment to innovation and expertise with data."
About ORI
ORI is a full-service customer experience (CX) consulting firm applying innovative data collection and analysis to help association, commercial, and government clients gain a full understanding of customer expectations. By offering quick and efficient data collection, agile research and analysis, and systematic listening to mine all types of structured and unstructured customer feedback for insights, ORI translates data into decisions and decisions into stronger customer engagement. ORI, a certified women-owned small business (WOSB) and eight-time Inc. 5000 honoree, has been recognized consistently for three decades for the successful delivery of data collection and processing and customer satisfaction research services. www.ORIresults.com
About Association Analytics
Association Analytics is an innovator in bringing data analytics to the association market. Leading organizations use our product, Acumen, to combine data from key source systems into a cloud-based platform, with intuitive and self-service visual analytics. Our mission is to inform your decision making by providing you with consistent, complete, and trusted data that leads to actionable business intelligence. By leveraging our product and services, associations are more successful with their current technology and data investments—lowering operational costs, driving revenue, and improving member engagement and experience. https://associationanalytics.com