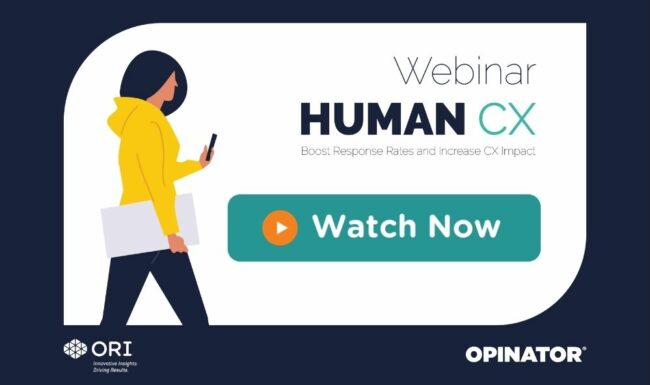 Webinar Recording | Human CX: Boost Response Rates & Increase CX Impact
Video: Generate Positive CX Impact by Humanizing Your Customer Experience Programs
Watch the on-demand recording of ORI and OPINATOR's high-energy discussion around Human CX. Learn how to place customers at the center of your data collection and feedback initiatives to drive more effective engagement, better quality analytics, and improved decision-making that is in tune with your customers' most pressing CX concerns.

Truly Hear the 'Voice of the Customer'
Listening to your customers has always been key to success, but now more than ever it is critical for businesses to engage with customers to generate real CX impact to understand their rapidly shifting and varied wants and needs on a personal level.
Thoughtfully and responsibly collecting customer feedback produces insights that translate into meaningful action. By placing customer needs at the center of everything your organization does, you can strengthen customer relationships and gain a competitive advantage that will generate a significant ROI.
Takeaways of this session:
Understand how "active listening" translates into survey design and higher response rates.
Identify why augmenting VOC feedback with all available data points across the customer journey leads to better analytics and engagement.
Recognize the invaluable connection between translating feedback into actionable insights and closing the loop with your customers to drive engagement and satisfaction.
Featured Speakers:
Lesley Boucher
VP, Consulting & CX
ORI
With over 25 years of experience as a senior executive, some of which was gained internationally, Lesley currently works as ORI's Vice President of Consulting and Customer Experience. Working with clients to gather the intelligence required to inform key decisions, Lesley focuses on extracting the highest-return insights from data and translating that information into action and results.
David Solana
Co-Founder & CMO
OPINATOR
David Solana is Co-Founder and Chief Sales and Marketing Officer of OPINATOR, the company that is bringing the human touch to Experience Management and enabling businesses to manage customer experiences in a new, smarter, and more engaging way. Before starting up OPINATOR, David held different management positions at leading corporations—most notably at Microsoft, where he pioneered and led the Mobile Division. David holds a major in Physics and a Master's degree in Computer Science from the University of Oregon.