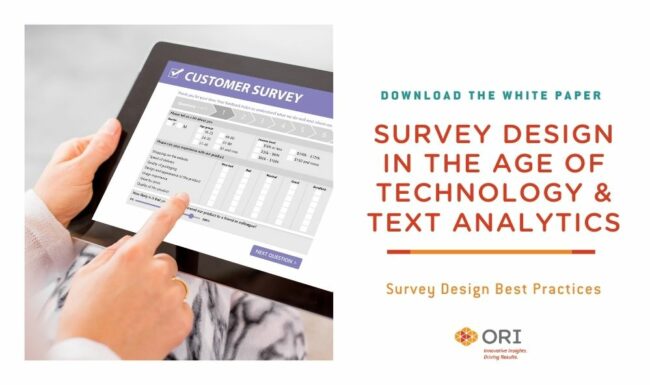 Survey Design in the Age of Technology & Text Analytics
Download ORI's latest white paper exploring the intersection of emerging technology and proven survey design and implementation best practices.
So, you're ready to field a survey. Whether this is your first time surveying your customer or member base or you've designed and deployed countless surveys in the past, are you certain that you are maximizing your chances for responses that will yield useful, actionable insights?
In Survey Design in the Age of Technology & Text Analytics, ORI draws on our 30 years of research-oriented survey design, distribution, and evaluation experience to share best practices for gathering the right data from the right sources in the right way—all while making the most of today's latest technologies. As a Clarabridge (now Qualtrics XM) implementation partner, for example, ORI pairs these proven survey design strategies with innovative AI-powered text analytics to help clients collect and analyze data to yield valuable insights into customers' attitudes, perceptions, and behaviors.
As survey technology and techniques evolve, surveys remain a mainstay due to the unmatched insights gathered through measuring customer feedback. But a poorly designed survey can do more harm than good.
Regardless of your intended audience, purpose, or mode, a well-designed survey must address five core areas outlined in detail in our report:
Picking a Mode, Timing & Cadence That Meet Your Needs—& Your Customers' Needs
Strategically Structuring the Survey
Asking Questions That Can Answer Your Questions

Starting with the End in Mind
Eliminating Ambiguity
Maintaining Objectivity

Maximizing Open-Ended Questions
Minimizing Survey Fatigue
The intelligent application of new technologies like AI-driven text analytics and real-time messaging open the door to additional opportunities for survey design, deployment, and utilization. But thoughtful survey design and implementation—and tried-and-true guidelines ranging from questionnaire flow to question wording—are paramount. By marrying proven survey design best practices with the innovations of modern technology, you stand to gain invaluable insights that will guide organizational strategy while impacting customer satisfaction and engagement.
Download the full ORI white paper Survey Design in the Age of Technology & Text Analytics: Survey Design Best Practices.