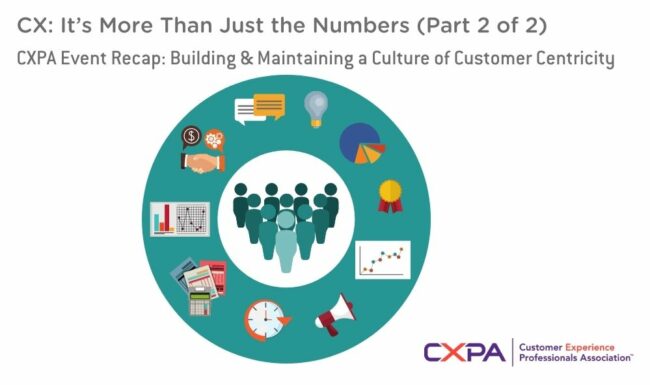 Customer Experience: It's More Than Just the Numbers (Part 2 of 2)
CXPA Event Recap: Building & Maintaining a Culture of Customer Centricity
By Lesley Boucher, Vice President of Consulting & Customer Experience, ORI
Co-Chair, CXPA Washington D.C. Network
So much ground was covered in the D.C. area Customer Experience Professionals Association (CXPA) quarterly local network meeting that one blog post wasn't enough. In this concluding post in our two-part series, we recap the second half of the session CX: It's More Than Just the Numbers. After exploring unstructured data with Jim Kitterman of BT Global Advise Services, an expert panel of customer experience (CX) leaders shared insights on building a customer-centric culture before closing the event by highlighting the importance of maintaining CX program momentum.
Building a Culture of Customer Centricity
Switching gears, a high-powered roundtable featuring Ed Bodensiek (Chief Experience Officer at Miles & Stockbridge P.C.), Cary Cusumano (CX Design Strategist at Verizon Enterprise Solutions), and Jeneanne Rae (Specialist Executive in Design Methods in Deloitte Consulting's Federal Government practice) discussed the challenges of building a customer-centric culture. With backgrounds that sweep across industries, the panelists brought diverse viewpoints on adopting a CX mindset in different types of organizations. In some, shareholder value can be the enemy of CX efforts while in others, like the airline industry, it can be a business driver. For organizations trained to look at precedent and wary of being the trailblazer, CX can be a tough sale. But zeroing in on personal motivations and hammering decision makers with numbers, examples, and customers' stories can sometimes change the tide, the panelists agreed.
Another point of agreement was that for CX to reach its full potential, you can't go it alone. Buy-in from executive leadership and the power of influencers go a long way in CX success—or failure. Start by finding a champion early on who has access to decision makers and always keep the focus on the voice of the customer, Cusumano said, but continue to develop champions along the way and remain persistent—it's not a one-off effort. Bodensiek added that organizations should consider "switching the code" by building buy-in from different departments and colleagues under the guise of "client development" rather than using the term "CX." By combining CX with HR initiatives, for example, organizations can reach the same goal by reframing the effort and employing a "relentless incrementalism" to move step by step to a customer-centric culture that serves internal and external customers.
Admittedly, customer loyalty can be a tough objective to incorporate into company culture beyond face-value acceptance that "customers are important." Employees are often measured on and incentivized by new customer sales, with a tendency to assume the existing customer revenue will regenerate uninterrupted year after year. Cusumano stressed the importance of taking a more holistic approach and reconstructing what happened on the customer journey before a call or email was logged to understand what factors are really impacting satisfaction levels. The organizations that can encapsulate those efforts into a CX program focused on delivering training and measurable results can also open up efficiencies, said Rae. Even better, they can prove ROI by tying improved customer experience and loyalty to increased revenue.
CX 2.0 & Beyond: Maintaining CX Program Momentum
Bringing the day's discussion full circle, Nancy Porte, Vice President of Global Customer Experience at Verint, delivered a case study on her company's successful CX program—sharing how any new corporate initiative will undergo an evolution, from startup to quick wins to maturation and a potential "leveling off" that needs to be anticipated and addressed to ensure growth. In presenting her own experience, she equipped attendees with probing questions and strategies in four key areas, which were also identified as CX priorities in a recent CEB study, to aid their own journeys.
CX Strategy: Porte stressed the importance of conducting executive interviews to gather leadership's thoughts on priority areas, current customer experience, and expectations—and then building that feedback directly into an updated CX strategy. With this shared insight, company engagement with customers transforms from transactional to relationship-focused.
CX Metrics: Porte recommended integrating all customer data to build a holistic view of the customer—and investing in a data scientist who can go beyond analyzing data to explore deeper data linkages and learn even more about customers. In the end, any insights and key initiatives must be linked to tangible KPIs and ROI. Porte suggested starting with the simple approach of linking CX data to financial data and then building from there.
Organizational Influence: Internally, the biggest challenge is often gaining buy-in and communicating (continually) the value of CX in a way that compels stakeholders to act on the insights it uncovers. Porte recommended, as just one idea, developing a Top 10 focus list of the issues that would have the biggest impact on the organization if resolved—and reporting monthly on the progress.
Customer Understanding: At Verint, Porte explained, customers become champions when the organization understands their needs, engages in proactive communication, and makes it easy for customers to do business with them. All employees and internal stakeholders must be aligned around making customer-centric decisions. By developing a formal Customer Guiding Principle, each customer-facing and customer-impacting employee will understand the specific behaviors that lead to improved customer satisfaction.
Looking Beyond the Numbers
As the event drew to a close and attendees shared their key takeaways, a few common themes bubbled to the surface. Recognizing the evolving nature of CX programs, all agreed that persistence and focus are needed to move step by step through the process of fostering lasting relationships with customers. A successful CX program—and even just an organization-wide appreciation for CX—cannot be built overnight. A well-informed strategy must serve as the foundation, and that means asking executives and stakeholders to articulate their opinions and expectations while maintaining an ongoing dialogue throughout the evolution of your program. Developing a robust CX program is no small task, and participants in the forum underscored that this cannot be accomplished alone. Collaboration is a requirement, and sharing quality insights with colleagues in settings like this CXPA forum is one of the highlights in the process for this CX enthusiast!
Read Part I of our CXPA event recap on leveraging unstructured data.