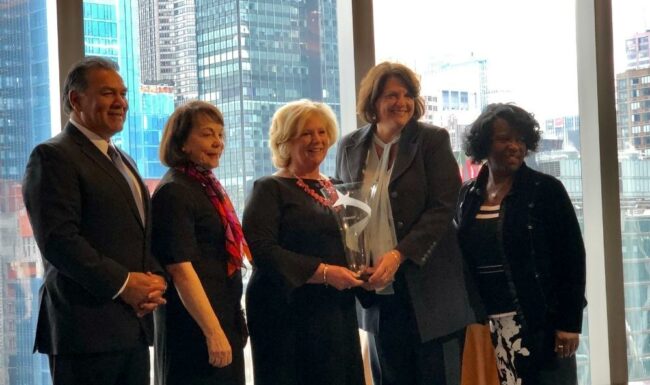 ORI's CEO Kathy Benson Named Co-Winner of 2018 WPEO-DC President's Award
Benson shares prestigious honor with Carol Muszynski, President of Eighth Day Design, for mentoring women business owners through WPEO/Capital One Sage Advice program.
Herndon, Va. – March 13, 2018 – Kathy Benson, CEO and co-founder of customer experience consulting firm ORI, has been named co-winner of the 2018 President's Award, presented by the Women Presidents' Educational Organization D.C. Chapter (WPEO-DC). Benson shares the honor with Carol Muszynski, President of Eighth Day Design, in recognition of the pair's support of the transformational WPEO Sage Advice developmental program.
For the past two years, Benson and Muszynski have mentored several small-business owners through the Sage Advice program, a collaborative partnership between Capital One and WPEO that exposes women business owners to critical leadership skills and financial acumen needed to accelerate the growth of their companies. WPEO, a community of certified women-owned businesses, comprises two of the 14 regional partner organizations of the Women's Business Enterprise National Council (WBENC)—the nation's leading advocate for women-owned businesses. WPEO was founded in 1998 by Dr. Marsha Firestone, who commended Benson and Muszynski for their "extraordinarily effective and amazing collaboration" and passion for the program.
"Words cannot express the immense honor of receiving the WPEO President's Award, and I am thrilled to share this recognition with my longtime friend and Sage Advice partner Carol Muszynski," Benson said. "WPEO has been instrumental in furthering the success of women-owned businesses like ORI, and it is an incredible privilege to be able to pay it forward by giving back to the rising generation of inspiring women business leaders. Participating in the Sage Advice program has been incredibly rewarding, and I look forward to continuing to partner with WPEO-DC and watching the success of our class of talented mentees."
Benson and Muszynski were personally selected by Firestone and Sandra P. Eberhard, Executive Director of WPEO-DC, for displaying an outstanding degree of support for WPEO and serving as an inspiration to others in all spheres of the WPEO community. They were presented with the President's Award on March 9 at WPEO's Annual Awards Breakfast, held at the Mandarin Oriental in New York City.
About ORI
ORI is a full-service customer experience consulting firm serving commercial, association, and government clients. By offering quick and efficient data collection, agile research and analysis, and high-value training and development, ORI translates data into decisions and decisions into stronger customer engagement. ORI, a certified women-owned small business (WOSB) and eight-time Inc. 5000 honoree, has been recognized consistently for three decades for the successful delivery of data collection and processing and customer satisfaction research services. Learn more at www.ORIresults.com.