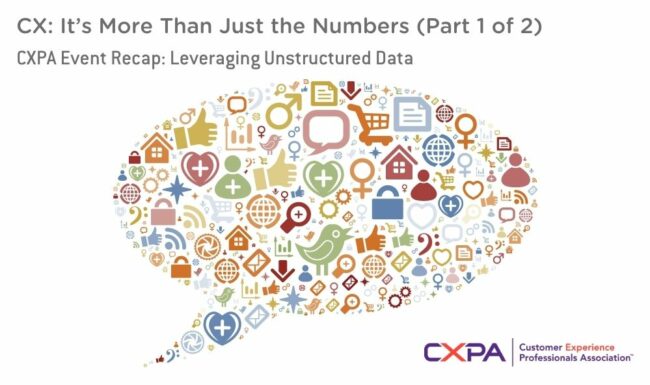 Customer Experience: It's More Than Just the Numbers (Part 1 of 2)
CXPA Event Recap: Leveraging Unstructured Data
By Lesley Boucher, Vice President of Consulting & Customer Experience, ORI
Co-Chair, CXPA Washington D.C. Network
Relentless Incrementalism. That was the phrase of the day at the D.C. area Customer Experience Professionals Association (CXPA) quarterly local network meeting titled CX: It's More Than Just the Numbers, an interactive half-day session filled with insights and presentations from customer experience (CX) practitioners and leaders. The phrase was first uttered by Ed Bodensiek, Chief Experience Officer at Miles & Stockbridge P.C., while participating in a panel discussion on Building a Culture of Customer Centricity. The group embraced the idiom immediately, recognizing the familiar frustration of convincing an organization to adopt a CX mindset being akin to boiling the ocean. Whether trying to leverage or overcome an organizational structure and create buy-in as a CX program takes root, everyone in attendance nodded in unison at the idea that practitioners must take on CX in small, impactful steps—and then take it to the next level.
Fittingly, the wide-ranging event took a similar approach by first exploring the data and sentiment behind customer feedback and then tackling the crucial task of building a culture centered on customers. In addition to several breakout discussions highlighting CX and EX (employee experience) programs in action, the event closed by placing the spotlight on a CX program that is building on its early momentum while acknowledging that success is a continual effort. Breaking down such a monumental task into smaller increments resonated with an audience whose CX programs ranged from novice to expert.
Getting to the "Why" Behind the "What"
Jim Kitterman, Senior Consultant in the BT Global Advise Services Customer Experience Practice, kicked things off with a topic that seems straightforward but actually represents the complex essence of customer experience: data. Specifically, he focused on the importance of exploring unstructured data and leveraging sentiment to gain a better understanding of customers.
Structured data—defined as data that resides in a fixed field within a record or file—differs widely from unstructured data—information that either does not have a predefined data model or is not organized in a predefined manner. In other words, structured data is quantifiable (think demographics, ratings on a scale of 1 to 5, or true/false responses) while unstructured data is qualitative (think audio, open-ended survey comments, or social media posts).
As Kitterman explained, unstructured data is vital because we're surrounded by it: approximately 2.5 billion GBs of data are created each day. Even more compelling, it is estimated that 80% of all data is unstructured. So, the question becomes, "Why do we focus on only 20% of the customer feedback 'story'?" Sure, the sheer volume of unstructured data can be daunting. But looking beyond the numbers, Kitterman encouraged the group to consider the "why" behind the "what" when dealing with unstructured data. Truthfully, it can be a goldmine for CX efforts. Net Promoter and survey scores only tell half the story. The unstructured data of comments, emails, and calls often uncovers the reasons behind customers' satisfaction levels, revealing drivers and explaining behaviors. Armed with that glimpse into not just what a customer said but why they said it, organizations gain the elusive "actionable insight" that can drive higher-margin repeat business and referrals into new customers.
Similarly, satisfaction scores (which grade the overall experience) are not always reflective of true customer sentiment. Thinking about our own behavior, how often do we give something a mediocre numeric score but reveal true discontent with the experience in the open-ended feedback? Likewise, neutral scores may not capture truly outstanding aspects of the experience that are shared in the "tell us more" section of a survey. Structured and unstructured data may provide opposing views, and digging deeper into the reasons why can open new opportunities. Whether examining customer satisfaction scores or sentiment feedback, thoughtful data-driven analysis is the key. For too long, Kitterman said, organizations have relied on anecdotes, intuition, personal experience, and assumptions as the basis for business decisions. With data-driven analysis that examines both structured and unstructured data, organizations can better predict future trends, make fact-based decisions, focus on continuous improvement and accountability, and monitor progress. Back to the theme of the day, Kitterman also stressed the incremental nature of enacting such changes, telling the group to start with one focus area—such as analyzing calls or online chats—and getting it right before tackling all avenues.
Keeping CX Focused on the Customers
Throughout the course of the session, that idea of "relentless incrementalism" kept surfacing, reminding speakers and attendees alike that CX is a journey that will continue to evolve as customers evolve. Success requires persistence. And whether focusing on structured vs. unstructured data, organizational culture, or CX strategy, each speaker noted the importance of capturing and sharing customers' stories—both positive and negative. They are the best insight you will have into the experiences of your customers and, by celebrating the wins and learning from the losses, your entire organization will better understand the role of CX and each individual's role in supporting it.
Read Part II of our CXPA event recap on building and maintaining a culture of customer centricity.