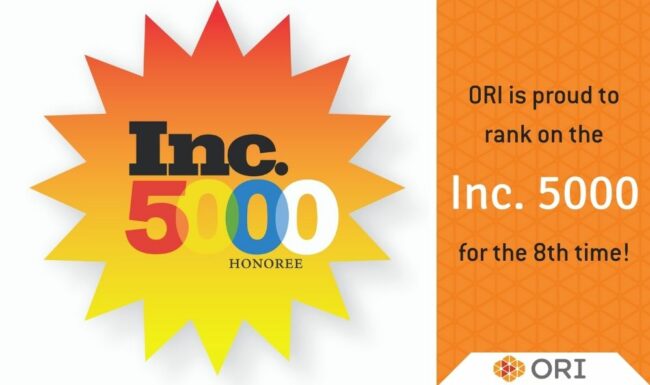 ORI Marks 8th Appearance on Inc. 5000 List of Fastest-Growing Private Companies in America
For third consecutive year, D.C.-area research and data analytics firm is recognized on Inc. magazine's 36th annual list celebrating entrepreneurs and innovators.
Herndon, Va. – August 16, 2017 – For the eighth time, ORI, a research and data analytics firm focused on strengthening customer experience, has been named to the Inc. 5000 list of the nation's fastest-growing private companies. With three-year revenue growth of 194%, ORI ranked in the top 40% of all honorees. Fewer than one-tenth of Inc. 5000 honorees—an already select group—achieves the prestigious ranking's "Honor Roll" of companies that have made the list five or more times. Of the tens of thousands of companies that have applied to the Inc. 5000 in its 36-year history, only a fraction have made the list more than once—and a mere 1% have made the list eight times.
Locally, ORI ranked No. 146 out of 324 Inc. 5000 honorees based in the Washington, D.C., metro area. Founded 29 years ago by CEO Kathy Benson and President Susan Lynd, ORI embodies the entrepreneurial spirit that defines the Inc. 5000 list. Over the course of nearly three decades of organic growth and acquisition, ORI has evolved from a data collection company focused on data entry and customer satisfaction analysis to a full-service customer experience firm serving government, commercial, and association clients.
"ORI is delighted to be named to the Inc. 5000 ranking for the eighth time in nine years, and we are honored to be among the fastest-growing private companies in America and the Greater Washington region," Benson said. "It is an incredible accomplishment to be an Inc. 5000 honoree, but to make an eighth appearance on the list is truly a privilege. ORI's steadfast growth is a testament to the fact that we continually seek new ways to innovate and evolve our solutions to grow as a company and as individuals while maintaining outstanding client service delivery."
About ORI
By offering quick and efficient data collection, agile research and analysis, and high-value team support and development, ORI translates data into decisions and decisions into stronger customer engagement. As a customer experience firm, ORI recognizes that any one of these activities can help connect government, commercial, association, and not-for-profit clients with key audiences. Clients are able to make informed decisions when they truly understand their customers, and ORI works directly with teams to strengthen relationships that drive results. For more information, visit www.oriresults.com.