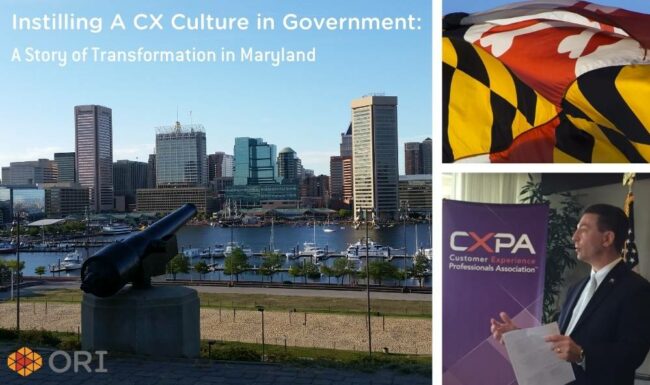 Instilling A CX Culture in Government: A Story of Transformation in Maryland
By Lesley Boucher, Vice President of Consulting & Customer Experience, ORI
How can U.S. government agencies—or, better yet, an entire state—adopt a customer experience (CX) mindset that caters to the evolving needs of the American public? That very story of transformation took center stage at the D.C. area Customer Experience Professionals Association (CXPA) quarterly local network meeting.
This gathering of CX professionals from the public, private, and non-profit sectors was joined by speaker Greg Derwart, Managing Director, Administration and Customer Experience for the Maryland Department of Commerce. With a leadership role in corporate culture and customer service efforts, Derwart is charged with leading the statewide Customer Service Initiative first unveiled by Maryland Governor Larry Hogan in June 2016. Guided by a "Customer Service Promise" that lays out the Governor's expectations for all state staff to deliver outstanding customer experience, the initiative is currently underway across 39 Maryland agencies. In a brief amount of time, Derwart's team has stood up a Customer Service Plan, developed a training timeline, and implemented an online survey, with more efforts already in motion.
How did customer service emerge as a statewide priority? To start, Gov. Hogan drew on his own experience as a small-business owner. Prior to being elected Governor, he was founder and CEO of real-estate services provider the Hogan Companies, where he interacted regularly with various state agencies, such as planning and zoning offices. As Derwart describes it, the Governor and the state recognized that regulations were not the sole source of issues for customers but, rather, how the state was handling and implementing regulations was a significant issue itself. This is a common thread that reaches beyond state governments and commercial businesses. For example, Derwart explained, in the 1960s, the No. 1 consumer priority was quality. By the 1970s, it was price. Today, customer experience and how a business makes a consumer feel rule. Along with this trend come changing expectations.
"Real time is no longer good enough. Consumers now expect us to be anticipative," Derwart said, noting the focus on moving toward predicting and solving problems before they occur.
And to achieve optimal customer experience, he explained, don't start with your customers—start with your team.
"For companies with reputations for customer satisfaction, the customer is No. 2. The team is No. 1. Unless you have a happy and engaged team, you're never going to move the needle on customer experience," Derwart cautioned.
To instill a CX-driven culture across all of its agencies, Maryland has implemented a systematic, wide-sweeping transformation built on three core priorities:
Culture—Plain and simple, a focus on customer service is the new standard Maryland has set for itself—and that directive comes from the very top with Gov. Hogan. Maryland means business, and the focus on customers is being woven into the fabric of the culture—from implementing a new portal and online resources to breaking down silos across departments and agencies.
Training—With a requirement for every one of its 50,000 state workers to receive enhanced customer service training, Maryland is making resource development a priority and has appointed customer service liaisons at every agency.
Metrics—With data collected from 400 to 500 online surveys each week across all agencies, expectations are set for timely follow-ups, weekly reviews of responses, and annual checkups. Improvements in customer satisfaction and customer service delivery are then measured against performance metrics created by the Governor's Office of Performance Improvement.
A key takeaway from the interactive discussion was that for state government, creating a customer-centric culture is a different game altogether. It is a large undertaking covering a diverse swath of constituents, and it also comes with the added complexity of serving "customers" who are highly invested in remaining in the state. These are not simple "consumer relationships" where one can choose to visit a competitor if a store or service offering fails to meet their needs. Instead, these are long-term relationships with residents and businesses—perhaps even spanning generations. There is great value in investing in those relationships and building on customer loyalty and engagement.
So how can others in the government and private sector attain similar success? It's no secret that change is often met with resistance, and it certainly helps that Maryland's directive came in the form of a top-down priority from the Governor. But Derwart also described a smooth adoption process met with solid levels of support from frontline employees as well as mid-level management. This top-down commitment from senior officials combined with on-the-ground team commitment to improving customer outcomes builds momentum and buy-in across all levels and gets to the root of building a customer-centric culture. Derwart is already spreading the story and model to Maryland counties and municipalities, and he plans to compare notes with counterparts in Michigan who are in the midst of a similar initiative that began with a focus on employee experience and will later branch out to customer experience. Whether beginning with employees or customers, both are critical components of building a customer-centric culture.