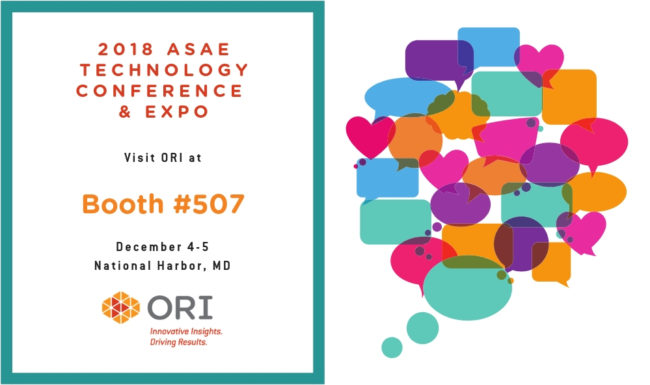 ORI to Demo Text Analytics Offering at 2018 ASAE Technology Conference & Expo December 4-5
Revolution & Evolution. The theme for the 2018 American Society of Association Executives (ASAE) Technology Conference & Expo is all about adapting and innovating to better serve members and drive associations forward. Drop by ORI Booth #507 to explore how to use ALL of your data to accelerate growth in 2019, leveraging the power of our best-in-class text analytics offering to truly understand member wants and needs.
Every association has unstructured data—the text commentary that's growing each day in your social media feeds, community forums, member surveys, and conference feedback. Why is it so important? Because in that unstructured data, your members are talking. But is your association listening? It can be an overwhelming amount of data, but it's also an invaluable source of insight into member (and, more broadly, customer) wants and needs. It gets even more interesting when you begin digging into all your Excel spreadsheets and CRM notes fields where fabulous nuggets about member insights and preferences are stored—virtually impossible to analyze in any meaningful way.
Are you making the most of your unstructured data? Whether your association is leading the charge in text analytics or you're just getting started, the ORI team would love to chat with you about your challenges and successes. Visit our booth for a 5-minute demo of the types of insights that innovative, market-leading technology can extract from association data—and take a look at the "how" behind translating your unstructured member data into dollars.
The ASAE Tech Conference is being held December 4-5 at the Gaylord National® Resort & Convention Center in National Harbor, Maryland.