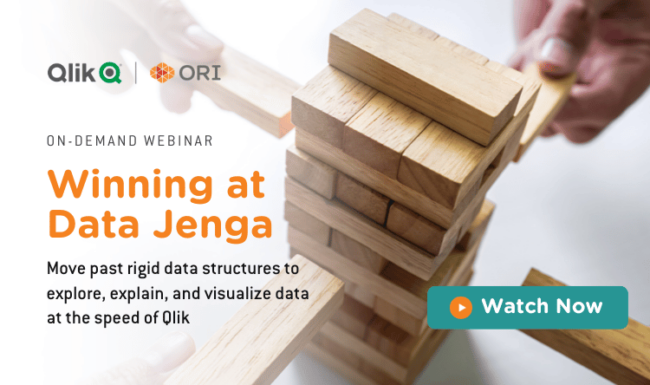 On-Demand Webinar | Winning at Data Jenga
Move past rigid data structures to explore, explain, and visualize data at the speed of Qlik
Are you playing a risky game of Data Jenga?
Join Qlik partner ORI's on-demand webinar to learn how to embrace the flexibility of building a single Data Jenga tower while avoiding the pitfalls of brittle data structures that threaten to topple your tower.
Unlock the full potential of your data and experience data analysis, data exploration, and data explanation at the speed of Qlik.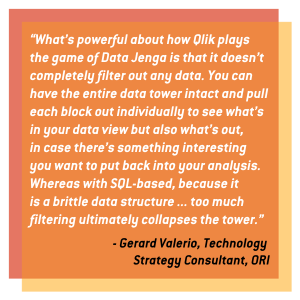 Learn how with Qlik you can:
Go beyond the limits of SQL and SQL joins
Empower data consumers with a data dense, data rich experience for data exploration and explanation
Effortlessly bring data together for ease and speed of analysis
Leverage Qlik's unique associative engine for a complete view of data while interacting and observing what falls into selection and what does not
Win at Data Jenga: how to start (building the data tower), how to play (interacting with the data tower), and how to win (observing the final data tower)
In this knowledge-packed hour, we share how to solve common BI pain points with the associative power of Qlik—where data analysis transcends the boundaries of traditional SQL and joins.
Webinar Speakers:
Jay Yeo, Solutions & Strategy Principal, ORI
Gerard Valerio, Technology Strategy Consultant, ORI
Register now to access the on-demand webinar: Winning at Data Jenga