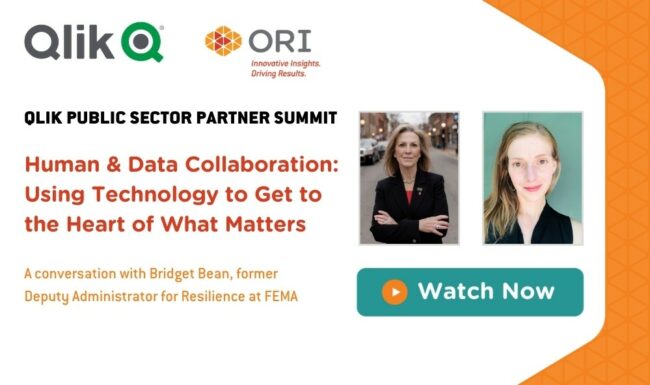 Webinar Recording | Human & Data Collaboration: Using Technology to Get to the Heart of What Matters
Qlik Public Sector Partner Summit | A conversation with Bridget Bean, former Deputy Administrator for Resilience at FEMA
What if we flipped the human vs. technology debate on its head and asked instead what we can accomplish by pairing these two forces together?
If you missed the 2021 Qlik Public Sector Partner Summit, watch the on-demand recording of Human & Data Collaboration: Using Technology to Get to the Heart of What Matters. Join Bridget Bean, President/Owner of Via Stella, LLC and former Deputy Administrator for Resilience at FEMA, and Jay Yeo, Industry Solutions Consultant at ORI, for a conversation about how humans and technology can collaborate to solve real-world problems. Explore how building a bridge between people and data using enabling technologies like Qlik can improve the lives, safety, and health of your constituents and customers. In this 30-minute session, learn how to:
Keep the human experience and condition at the center of everything you do by using advanced analytics technologies to improve communication and collaboration within and among agencies and organizations.
Access, analyze, and act on data effectively and efficiently to make informed decisions to improve the lives of those you serve.
Use enabling technologies like Qlik to improve analytics, insights, and operational efficiency to ultimately benefit people—whether it's the analyst, the IT department, the agency directors, or (most important) those the agency serves.

Registration for the Qlik Public Sector Partner Summit is free and gives you on-demand access to the full lineup of speakers from federal, state, and local government; higher education; and healthcare. Join the following sessions to learn about the latest data and analytics strategies, solutions, and technologies in the public sector technology community:
Streamlining Processes & Making Sensible Decisions in Government Operations from the CIO & Chief of Field Services for the Florida Department of Business and Professional Regulation
Addressing Patient Distribution with Ottawa Paramedic Service
GovLoansVision: Descriptive & Predictive Market Intel for Government Mortgage Programs from Polygon Research
Real-Time, Data-Driven, AI-Enabled Patient Surveillance from CTI
Optimizing Outcomes with Intelligent Insights from Swish Data
Connecting with Your Qlik Users Through In-App Surveys from Pomerol Partners
Making Your Data Talk with Vizlib
Advanced Analytics Inside Qlik Sense with Booz Allen Hamilton
Leaping from Legacy to Modern Data Analytics Architecture with Zero2Hero from Bardess
Healthcare Research on Demand with IPC Global
Integrating BI, AI & Process Automation to Streamline Analysis to Action from Intellidyne
Rapidly Deploying Qlik's Rich Data Analytics & Visualization Capabilities at the Tactical Edge from RavenTek
WWT's Approach to Advanced Analytics Leveraging Qlik with Aparna Kumar, Analytics Practice Lead, Public Sector