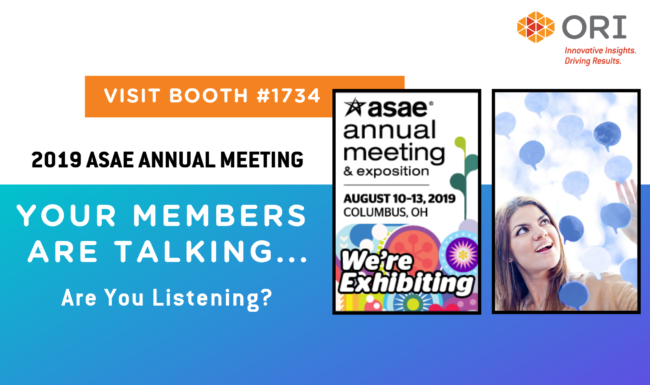 ORI Exhibiting at 2019 ASAE Annual Meeting August 10-13 in Columbus, OH
Are you looking for new ways to boost member retention and drive revenue? The 2019 American Society of Association Executives (ASAE) Annual Meeting & Exposition is just around the corner—August 10-13 in Columbus, Ohio. The ORI team will be sharing our innovative approaches to strengthening member experience, increasing retention rates, and driving non-dues revenue. Drop by Booth #1734 for a demo of Insights2Action, our comprehensive solution that leverages ALL data sources to truly hear, understand, and act on the voice of the customer.
As featured in ASAE's Associations Now, we believe that your unstructured member data is a marketing treasure trove. Not sure where to start? Whether you're looking to enhance the efficiency and effectiveness of your member help desk, glean insights from social media and online forum conversations, or create new offerings to drive non-dues revenue, we can help achieve your strategic goals by analyzing previously hard-to-mine member feedback and commentary. With ORI's Insights2Action data mining and text analytics platform, we will:
Define critical business objectives and customize our data mining and analytics to ensure actionable insights.
Move beyond "what" members and customers think into "why" they are renewing and buying more (or shifting their business elsewhere) by exploring customer sentiment, emotions, and effort.
Anticipate and meet member needs and expectations to increase retention, grow beyond your current member base, maximize referrals, and boost member and customer engagement and satisfaction.